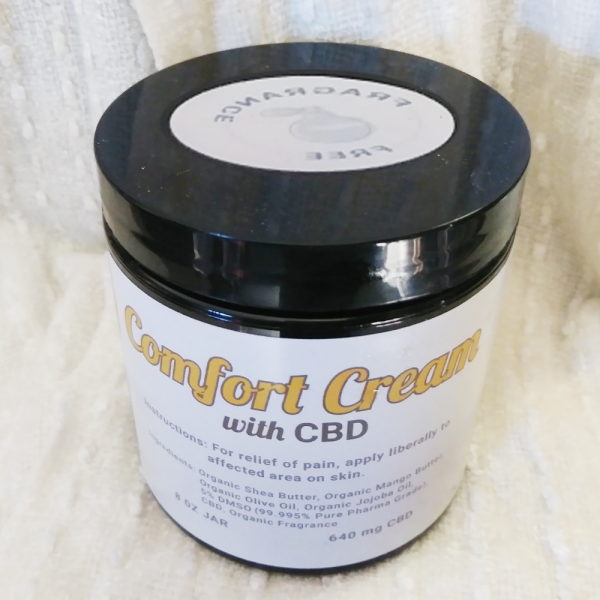 8 oz – Comfort Cream (1X)
Our transdermal Comfort Cream is a CBD product that absorbs into the skin and into your bloodstream. The difference between this and typical topical products has to do with the fact that topicals do not absorb into the bloodstream, which is necessary in order to relieve pain and inflammation. Instead, topicals typically only work on the outer layers of the skin.
Comfort Cream is a CBD isolate product rather than full spectrum. Because of this it should have no impact on drug testing due to the fact that it is absent of all THC. (3rd party lab tests available upon request).
---
Instructions: may relieve general pain & inflammation, wash the area of skin you'd like to apply the cream to, with water & mild soap, then apply liberally to affected area on the skin. Other lotions, sun screens and makeup should be removed before applying, as the chemicals in them can be toxic if they are absorbed through the skin.
Most often used for general pains and inflammation.
Pain relief can occur within a few minute with effects lasting for 3-4 hours. Reapply as needed.
Ingredients: Organic Shea Butter, Organic Mango Butter, Organic Olive Oil, Organic Jojoba Oil, 5%DMSO (99.995% Pure Pharma Grade), CBD isolate
---
KEEP OUT OF REACH OF CHILDREN — For external use ONLY. Do not ingest.
In case of eye contact, immediately flush eyes with water and call a physician.
Caution: May cause skin irritation. Avoid contact with eyes. Wash thoroughly before applying. In case of eye contact, immediately flush eyes with water and call a physician.
Warning: These statements have not been evaluated by the Food and Drug administration. This product is not intended to diagnose, treat, cure or prevent any disease.
Reviews
There are no reviews yet.
Only logged in customers who have purchased this product may leave a review.